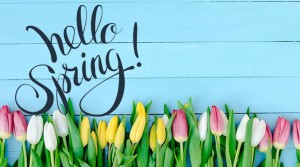 Outer Banks Spring Weather should be here Soon!
Spring is a wonderful season on the Outer Banks despite all the rain and occasional Nor'easter. The tourist traffic is picking up and the beaches will soon be populated with locals and visitors.
Because of all the snow, rain and bath weather we have had over the winter, there are a lot of items in your yard that are going to need your attention such as:
Pampas Grass-now is the time to cut back all the dead growth from the past (that is brown) to get ready for the new, green growth that will soon appear. Pampas Grass frons can be sharp so please wear gloves as they can cut your hands.  Many people tie a rope or chain around the base before cutting back with a hedge trimmer or chain saw.  The old frons can be placed in your outside trash can for pick up.
Many homes have Lily Turf, Blue Liriope and/or Purple Hearts around their walkways, driveway and flower beds that product flowery shoots during the good weather. In the winter these also turn brown and need cut back.
Trees and shrubs can be pruned back of any brown or dead limbs.
Spring is also the time to start thinking about planting!  Lowes and Home Depot on the Outer Banks have begun to get their annuals, perennials, trees, shrubs in and soon will also be receiving Palm Trees.   Planting and taking care of plants and flowers helps keep your home looking nice and helps relieve your stress by taking care of them!